Extracurricular Learning
Museum of Kamei Collection hosts learning activities like those below for primary and junior high school students.
Currently, learning activities are not available due to the COVID-19 pandemic.
"The Mystery of Butterflies"
Worksheet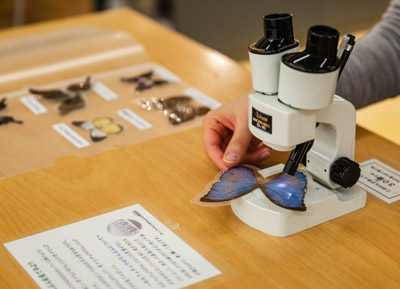 For primary school students: introductory version
For junior high school students: intermediate version
The are worksheets that require you to observe butterfly exhibitions and wings on the microscope, etc. to answer the quizzes on the worksheet. There may be discoveries about butterflies and their wing colors/patterns, scale shapes, and body functions!
Kokeshi Painting Workshop

"Make your own kokeshi!"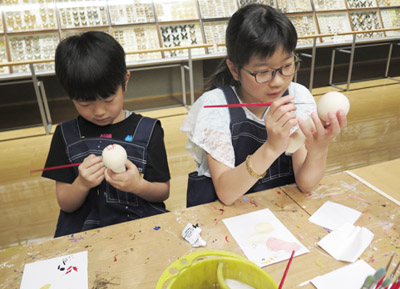 Painting workshop fee: ¥600
Participants: high school student or younger
Workshop duration: about an hour
Maximum participants per workshop: up to 12 participants per workshop
There will be plain wood and paint at the workshop, so you can participate without bringing anything. Kokeshi was created and developed in the Tohoku region. Although they all have the appearance of "a cylindrical body and a sphere-shaped head," the face and body patterns are unique to the artisan, giving each piece a distinct appeal. Why not try making your own original kokeshi?
All workshops require a reservation.
Please reserve by email at least a week before the day you want to request the workshop.